WHA Vietnam recently co-organized a webinar on the theme "Doing Business in Vietnam" for Chinese investors exploring business opportunities in Vietnam. Participants listened to experts from WHA Vietnam, Pricewaterhouse Coopers Vietnam and Goertek Vietnam who explained tax incentives and privileges in place to attract new companies.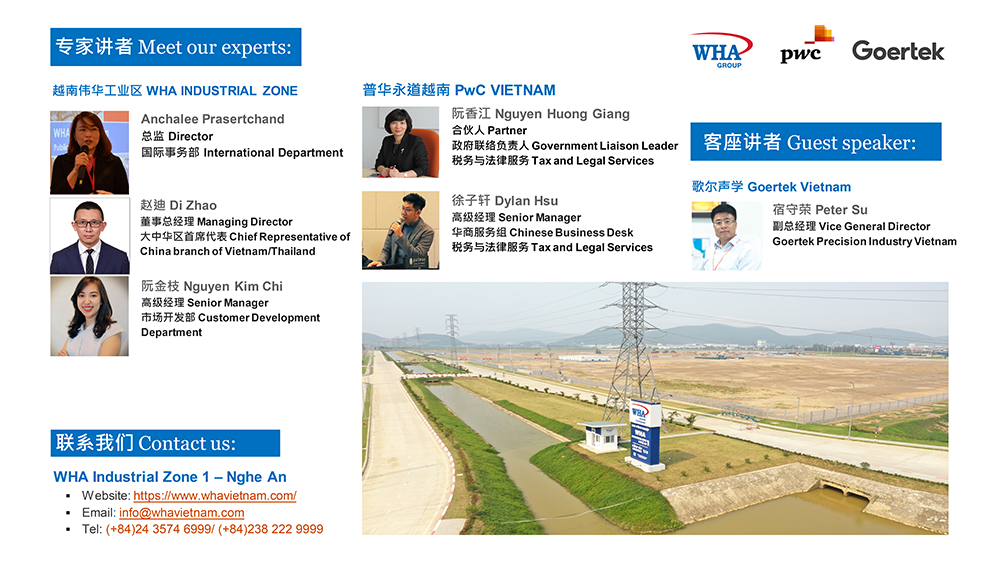 To begin the event, Ms. Anchalee Prasertchand, Director- International Department, WHA Industrial Development PLC, shared key relevant factors to be taken into investment environment in Vietnam and recent trend of investment landscape of North Central Vietnam where the FDIs is extending and expanding their operation into this region to enjoy the reasonable land cost and availability of the workforce. She pointed out Vietnam's favorable investment conditions like key economic factors, population and workforce size, strategic location close to major markets, Free Trade Agreements, GDP growth rate, as well as strong government support to attract Foreign Direct Investment.
Mr. Zhao Di, Managing Director and Chief Representative, China branch, WHA Industrial Development PLC, described WHA Industrial Zone 1 - Nghe An's world-class infrastructure and utilities now ready to welcome investors. Under the "Smart Eco Industrial Zone Development Concept", WHA Industrial Zone 1 - Nghe An underscores the high quality structure of developed land, drainage and anti-flood systems, road & dike systems, water utilities, power supply, modern communications systems, air quality and security monitoring etc., to ensure that investors can focus on building and developing their factories.
Goertek Inc., a Chinese acoustic components company that holds the largest market value among acoustic companies on the Shenzhen Stock Exchange, is now focusing on R&D, production and shipment of micro speakers/receivers, micro microphones, virtual/augmented reality, gamepads, wired/wireless headsets, smart wearable products, etc.. Representatives of Goertek Inc., including Mr. Peter Su – Vice General Director of Goertek Precision Industry Vietnam, shared their first-hand experiences when the company first decided to invest in a new factory of 40 hectares with a registered capital of 100M USD in WHA Industrial Zone 1- Nghe An. They also revealed plans for further development in the near future.
Mr. Dylan Hsu – Senior Manager – PWC Vietnam, explained Vietnam's tax incentive policy and taxation environment, and presented options for doing business in Vietnam such as establishing a new company, expanding a business or setting up a branch.
WHA Group and PWC Vietnam will continue organizing insightful seminars and events to offer potential investors a glimpse of the business scene and investment possibilities in Vietnam.