TheLEADER While provinces, especially in southern Vietnam, are facing a shortage of human resources, other areas such as the north-central region can benefit from the wave of people relocating back to their hometowns.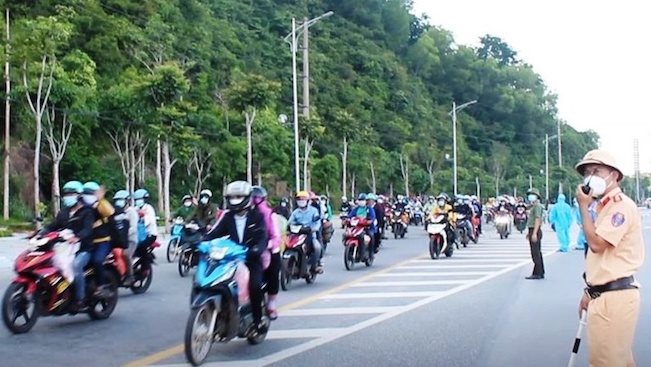 There were 92,000 Nghe An residents who returned home between January and October 2021
Early every morning, Phuong, from Nghe An province, rides her motorbike for about 30 minutes to work, then rides back in the evening to cook dinner and take care of the family. The 37-year-old mother says that it has been a long time since she last felt this comfortable even though she only earns VND4 million, which is twice lower than her income when she worked for a textile factory in Ho Chi Minh City.
Phuong worked in the south since she graduated from high school before coming back to Nghe An province last September. She decided to return home to look for a permanent job. Phuong and her three sisters made the same decision after facing a 2-month crisis caused by Covid-19 in Ho Chi Minh City.
While having dinner with her husband and children, Phuong recalled the quarantine time in Ho Chi Minh City two months ago: "Four of us had to stay in a room smaller than 20 square meters and eat instant noodles". Landing a stable job near home and being able to see her children daily was what she wanted the most.
Phuong is just one of the 92,000 Nghe An residents who returned home between January and October 2021, according to the Nghe An Department of Labor-Invalids & Social Affairs. About 66,700 workers returned from southern provinces and cities due to the impact of the Covid-19 pandemic, 62 per cent of whom are unskilled workers. In addition, Nghe An also welcomed 25,300 people returning from northern provinces.
Over 45,200 employees returning from other provinces applied for jobs in economic zones while nearly 3,000 people went to work abroad. A survey by the Nghe An Department of Labor-Invalids & Social Affairs covering 57 companies in the province shows that they currently need a total of 15,000 workers, with salaries ranging from VND 5 million to VND 30 million per month.
In a press meeting this October, deputy head of the Nghe An Department of Labour, Invalids and Social Affairs Bui Van Hung said that an expected 45,000 laborers coming from other provinces were being connected with companies inside and outside the province.
While major economic centers, especially in the south of Vietnam, are facing a shortage of human resources due to Covid-19, other areas such as the north central region can benefit from the wave of people relocating back to their hometown. Companies in Nghe An can have access to tens of thousands of experienced workers, in addition to the existing 1.9 million laborers of Nghe An and many others from adjacent provinces like Ha Tinh and Thanh Hoa.
In the past, people in the central region had to travel thousands of kilometers to find jobs because the local economy was mainly agriculture-based. Today, thanks to many advantages, the north-central region has become an attractive destination for domestic and foreign companies to set up factories, especially with the development of new, modern and synchronized industrial zones.
FDIs continue to enter Vietnam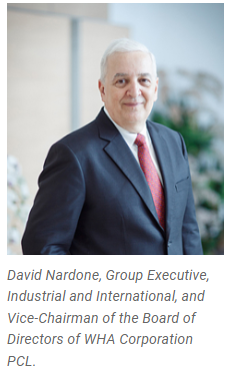 Despite difficulties and challenges caused by Covid-19, Vietnam has remained a bright spot for foreign direct investments over the past years, as highlighted by a recent report by the Singapore Institute of International Affairs (SIIA).
According to The Australia Financial Review, Vietnam is likely to remain foreign investors' favored destination despite the impact of the Covid-19 pandemic. FDI inflows remain at high levels with registered capital at $28.5 billion in 2020 and $22.1 billion for 9M 2021.
"Vietnam offers a unique combination of key strengths for international potential investors: proximity to major markets, a sizable domestic market, a large, young and skillful workforce, numerous key free trade agreements including CPTPP and the recent EVFTA and RCEP, and well-developed transportation infrastructures," explained David Nardone, group executive, industrial and international, and vice chairman of the board of directors of WHA Corporation PCL.
Recently, South Korean conglomerate SK Group invested $340 million in The CrownX, a retail platform of Masan Group Corp., Vietnam's top food and beverage and retail company. Dutch company De Heus has acquired the feed business of the Masan Group, to strengthen its position in Southeast Asia's animal feed market. South Korea's Amkor Technology, Inc. plans to funnel $1.6 billion into a semiconductor manufacturing plant in Bac Ninh.
A report of Nghe An's Southeast Economic Zone showed that since the beginning of 2020, VSIP industrial park has licensed eight projects, WHA Industrial Zone Nghe An licensed eight projects, while Hoang Mai I industrial park is carrying out investment procedures for a project.
David Nardone said that since the outbreak of Covid-19 in Vietnam, especially in 2021, WHA Industrial Zone 1 - Nghe An has welcomed a large number of investors including Goertek Precision Industry Vietnam, Jiangtai Vietnam, Thanh Ty Service Trading, Vietwin Industrial, Minh Phu Steel, etc.
When asked the reasons behind their investments, these companies highlighted the quality of the infrastructure, strategic location, attractive tax, and non-tax incentives of WHA Industrial Zone Nghe An thanks to WHA Industrial Development's 30-year expertise. Finally, the availability and quality of labor as well as support from authorities were mentioned as critical factors.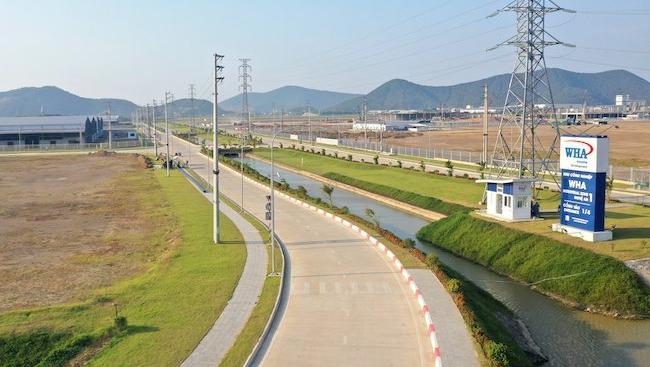 WHA Industrial Zone 1 - Nghe An
The infrastructure of Phase 1 of WHA Industrial Zone 1 - Nghe An, covering a gross area of 145 hectares, is completed. 54 per cent of the sellable land has been leased to more than 10 investors from Hong Kong, Japan, Thailand, China, Vietnam, and other countries in various industrial sectors such as building materials, food processing, solar panels, and a large investment in electronics. WHA expects these numbers to increase in the coming quarters.
With increasing customer demand for industrial land, WHA is accelerating its expansion in Nghe An province to develop the remaining phases. For Phase 2, covering a gross area of 354 hectares, WHA received the necessary revised Investment Registration Certificate last May 2021 andwill start construction in early 2022.
"In fact, we have already secured a customer interested in 12 hectares of land, pre-construction," revealed Nardone.
Once fully completed, including phases 1, 2, and 3 of a combined 750 hectares and 1,100 hectares of subsequent expansion, WHA Industrial Zone - Nghe An will comprise a total of 1,850 hectares.
WHA Group anticipates that there will be more investors from China, Korea, and other countries, particularly in electronics, automotive, and consumer goods in the north and north-central regions. This is due to the Lach Huyen deep seaport and related logistics, labor availability, and increasing infrastructure such as national highways and others.
"Nghe An Province is particularly well-positioned to attract the flows of investments," said Nardone.
Source:
The article was published on The Leader on 21 December 2021.