VIETNAM INVESTMENT OPPORTUNITIES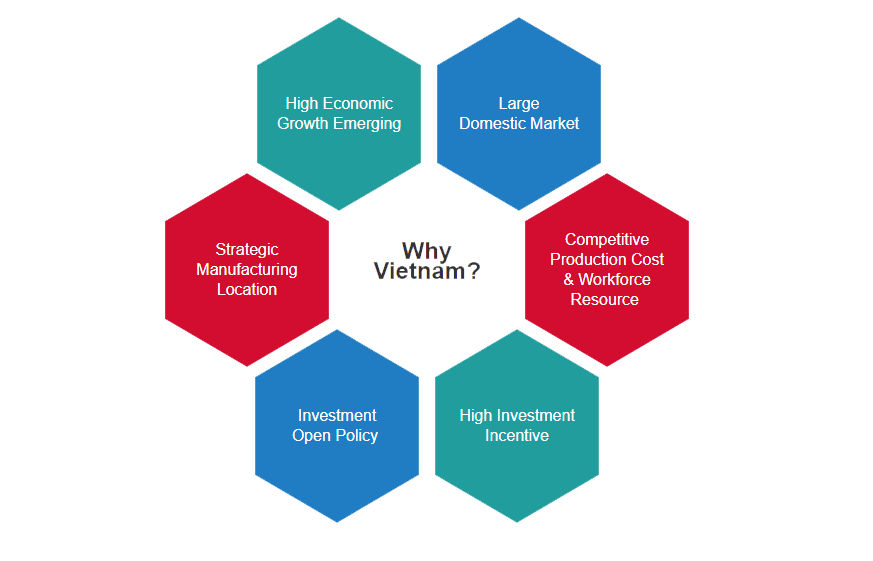 ​
Vietnam Investment Opportunities with Key Competitive Advantages
Vietnam (the Socialist Republic of Vietnam) is located in the South East Asia (SEA) which officially opened the country's doors to create Vietnam investment opportunities by launching a political and economic renewal campaign (Doi Moi) in 1986.  Almost 21 years later, Vietnam took part in an important agreement with World Trade Organization ("WTO") in 2007, followed by its participation the ASEAN Economic Community ("AEC") in December 2015, other 66 bilateral trade agreements to enhance Vietnam investment opportunities and integration in the world economy.
Due to the geographic location and natural conditions, it favors Vietnam investment opportunities for agricultural activities which account the Vietnam workforce capacity for over 60%.  Even so, the country is now gradually shifting to be a popular destination for manufacturing and services, particularly in the northern region.  The result of this transition has revealed the country's growth of its consumption and wealth creation which becomes one of the key factors to draw investors' attention to explore Vietnam investment opportunities.  Another key competitive advantage to attract foreign investment in Vietnam is a highly well-educated and easy-to-train Vietnam labour workforce since there are numerous of educational institutions located around the region, especially in Nghe An province which is home to 7 universities, 6 colleges, 4 professional schools and 61 vocational training schools.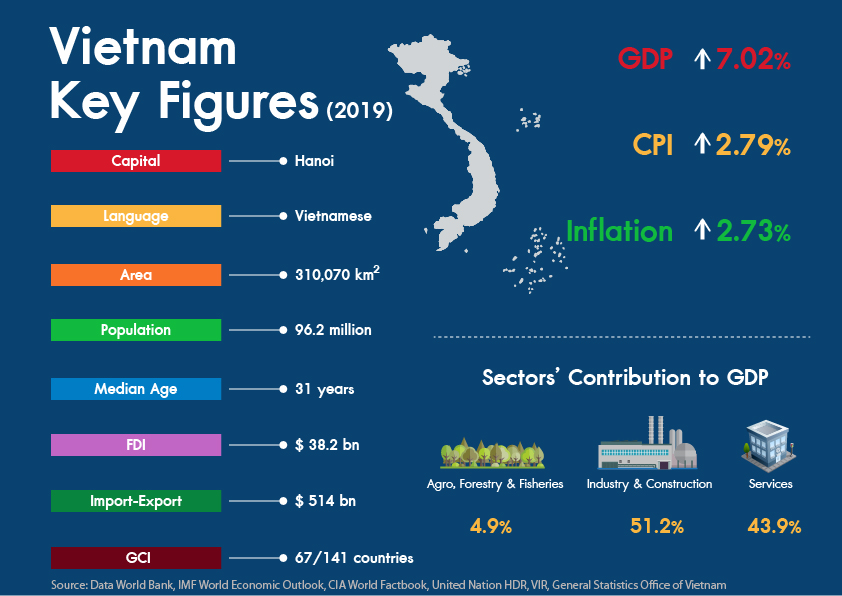 Vietnam Key Figures in 2019
Furthermore, down to the EU-Vietnam Free Trade Agreement (EVFTA) signed on June 30, 2019 in Hanoi, Vietnam and EU have agreed to almost eliminate 99 percent of custom duties of various kinds of goods in a certain period (For EU exporting to Vietnam, 65 percent of duties will be eliminated while the remaining will be gradually phased out over a period of 10 years.  Vice versa, 71 percent of duties will be eliminated on Vietnam exports to the EU, with the remaining being eliminated over a period of seven years).  

Source: https://www.vietnam-briefing.com/news/evfta-eu-vietnam-trade-relations.html/
Also, Free Trade Agreements (FTAs) plays a significant role in creating Vietnam investment opportunities and moving up the value chain in numerous sectors such as textile and hi-tech sectors like electronics together by supporting high-skilled jobs and knowledge transfer.
Besides, the local authority himself announced the new regulations to facilitate investing in Vietnam by allowing foreigners to hold 100% stake of public companies in many industries as well as purchase rights in land and houses.  These changes in regulatory are more business friendly and help to enhance Vietnam investment opportunities and the economic growth for the country..

Free Trade Agreements (FTAs) plays a significant role in creating Vietnam investment opportunities
Foreign Direct Investment in Vietnam
The foreign direct investment in Vietnam seems very promising.  In 2016, it has been a successful year for Vietnam, continuing its achievement to be a leading ASEAN economy and a global player.  Although the early in the year, falling commodity and energy price caused Vietnam's failure to reach its goal of 6.7 percent GDP growth, the country can still manage to go beyond most of its neighbors with 6.2 percent of GDP. In 2017, the government targets 6.7 percent of GDP growth but reach 6.81 percent in the end of the year.

By primarily increasing trade and Vietnam investment opportunities with signing a free trade agreement last year with the European Union (EVFTA) to eliminate trade tariffs by 2018, real GDP expanded nearly 7.4 percent during the first quarter of 2018.
Vietnam investment opportunities has been increasing strongly after joining the WTO 10 years ago. Vietnam FDI has attracted 27,353 projects with a total registered capital of nearly USD 340.16 billion. Particularly, many global leading groups such as Samsung, LG, Toyota, Honda and Canon have selected Vietnam as a manufacturing base.
Top Foreign Direct Investment in Vietnam

Summary of FDI in Vietnam 2019 vs 2018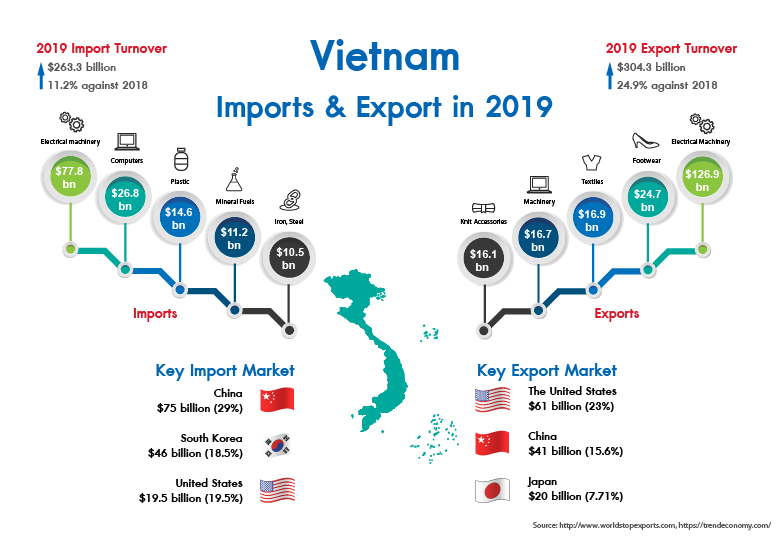 Vietnam Geography
Vietnam is located in the South East Asia, also known historically as Indochina occupies about 331,688 square kilometers and has its boundary with Laos, Cambodia and China.