Vietnam is a country attracting high FDI in the region. Investment in Vietnam promises to bring many long-term achievements. Therefore, our country is very interested and preferred by foreign investors. It is expected that in 2023, Vietnam will continue to attract foreign investment capital.
1. Investment in Vietnam in recent years
FDI is a long-term investment from one country into another, also known as foreign capital. The form of investment can be opening a workshop, opening an enterprise, or even an industrial park. In which, the investor holds the main power in the management and administration. Foreign-invested enterprises are often referred to as FDI enterprises, operating under the regulations of the host country.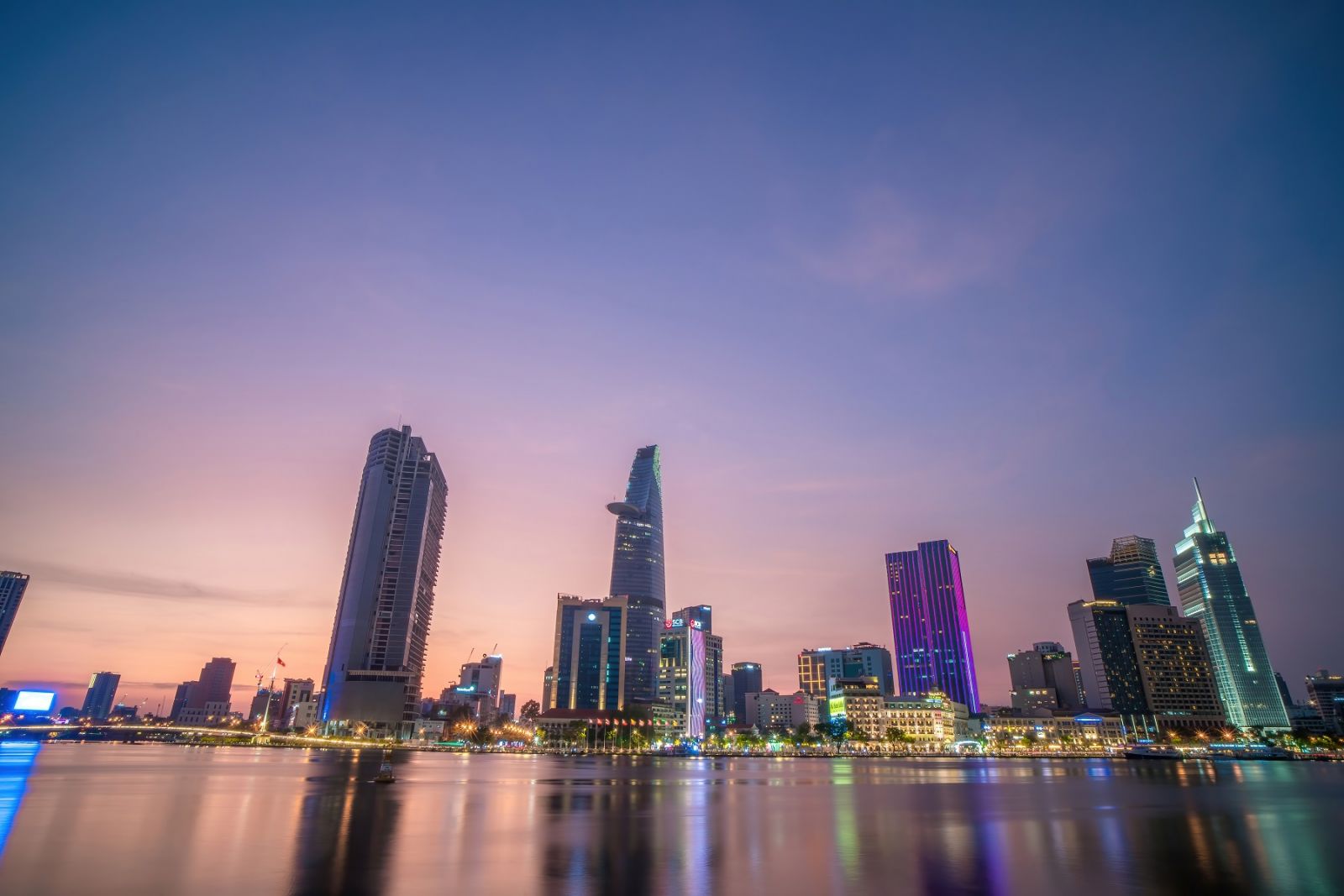 Vietnam's economy continues to attract FDI
FDI capital is an important and necessary source of capital for developing countries like our country. Foreign investment in Vietnam contributes to economic development and creates jobs for many workers. However, this investment activity needs to be properly allocated and strictly managed to avoid affecting the environment and depleting natural resources.
-

FDI flow into Vietnam in recent years
Experiencing difficult years due to the Covid-19 pandemic, FDI flow into Vietnam has not been greatly affected. There is even a growth trend in both the number of projects and the size of capital source.
According to the Ministry of Planning and Investment in 2022, our country attracts up to USD 28 billion of FDI, of which Ho Chi Minh City leads with USD 3.94 billion, which is followed by Binh Duong and Quang Ninh with USD 3.14 and 2.37 billion respectively.
According to the Ministry of Planning and Investment, although newly registered capital decreased compared to previous years, the number of projects increased. It is predicted that in 2023, Vietnam will continue to attract investment capital in the Southeast region, the Red River Delta and central provinces such as Thanh Hoa and Nghe An.
2. Why Vietnam attracts foreign investment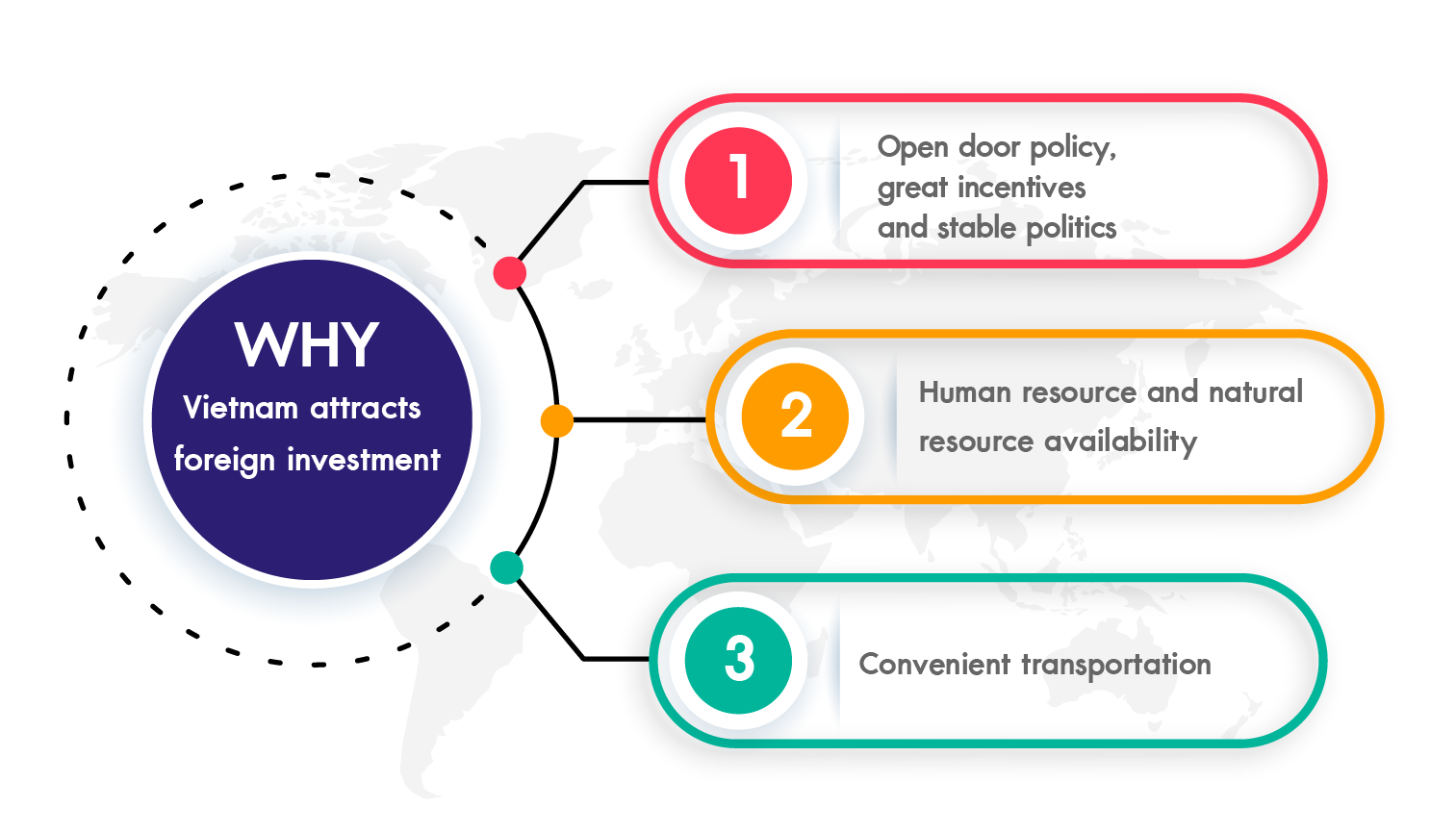 -

Open door policy, great incentives
The Vietnamese government always favors and develops policies to attract foreign investment. Investment laws are changed regularly to suit the world situation. Sometimes, foreign investors are entitled to preferential land rental, reduced corporate income tax, and favorable legal conditions.
-

Stable politics, safe country
Thanks to the leadership of the Party and the strict management of the State, Vietnam is considered as one of the safest countries in the world with a stable political situation, strong military system and skillful diplomacy with neighboring countries. Moreover, weapons and explosives are also strictly managed, the security situation is always guaranteed.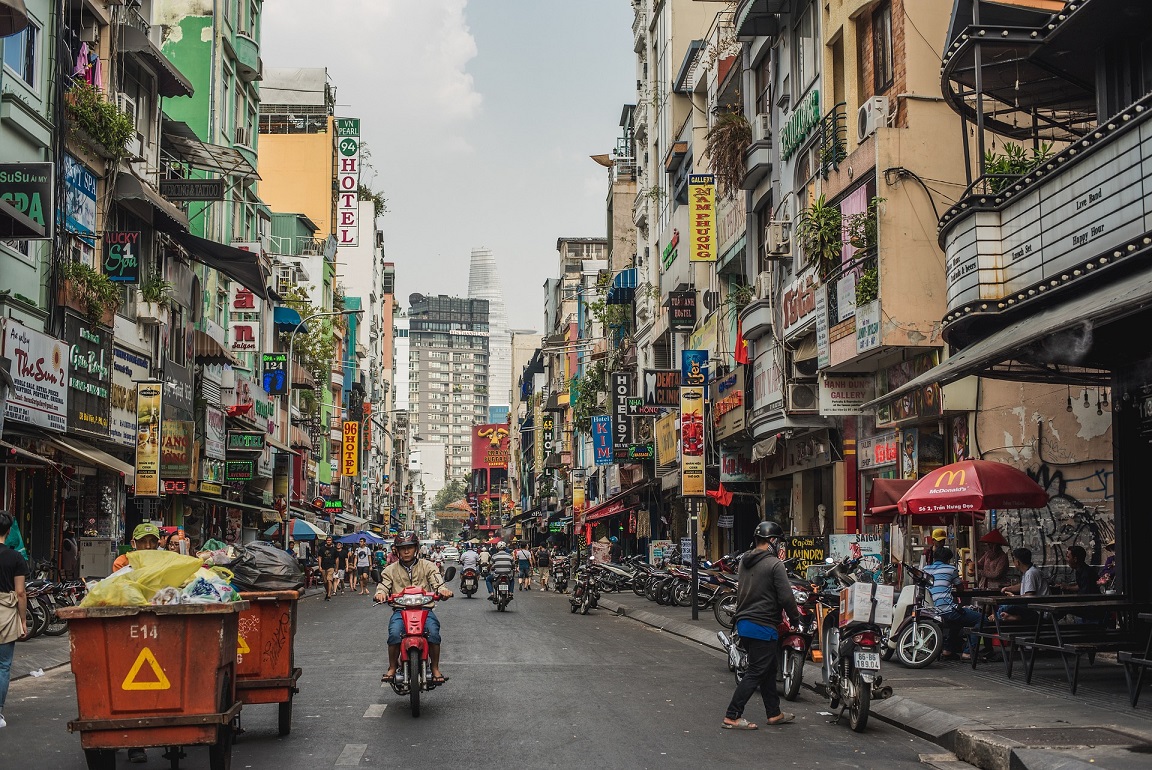 Vietnam is one of the safest countries in the world
As a result, foreign investors are always assured of investment in Vietnam, especially long-term investment. Building factories and industrial parks in Vietnam can be completely secure.
-

Human resource and natural resource availability
Vietnam is rich in natural resources and young human resources. Investment in Vietnam helps to minimize the cost of raw materials and labor.
Our country is very rich in mineral resources including coal, oil, iron ore, limestone, etc. so favorable for mining, metallurgy and mechanical industries. Along with rich natural resources, it is possible to develop the food processing, pharmaceutical, cosmetic, and textile industries. Besides, the technology, automation, electricity and electronics manufacturing industries are also focused thanks to the young labor force and low cost.
For these reasons, Vietnam has always been the promised land of foreign enterprises and investors. Investment campaigns and FDI capital are expected to be powerfully developed in our country.
-

Convenient transportation
Vietnam has a favorable geographical position with a long sea route. Bordering China to the North, Laos and Cambodia to the West, it is convenient to travel by waterway and road and the circulation of raw materials for production is faster and more economical. Organizations also easily attract regional and international human resources to work in industrial parks.
3. Expected investment in Vietnam in 2023
It is expected that foreign investment in Vietnam will continue to prosper in 2023, even though the scale and number of projects may increase compared to the previous year. Not only attracting investment in traditional industries, in 2022 Vietnam has received commitments from suppliers of Samsung and Apple, aiming to expand production facilities for these giants in Vietnam.
As analyzed above, our country is a "promised land" that is preferred by foreign enterprises. Investment in Vietnam is the right direction that promises long-term efficacy. Therefore, it is expected that in 2023, FDI capital will increase even more with many new projects.