Vietnam's industry has rebounded and is currently the most promising destination in Asia-Pacific regions for industrial development after the determination and efforts to restore the economy during the pandemic. In the first 6 months of 2022, the industrial park market attracted numerous investment enterprises spanning 64 provinces and cities. The South is leading, and in the meantime, the number of industrial parks in Vietnam in the Northern and Central provinces is also strongly increased.
Outcomes of industrial parks in Vietnam in the first 6 months of 2022
According to a report by the General Statistics Office of Vietnam, in the first 6 months of 2022, the industrial and construction sector increased by 7.7% over the same period in 2021, contributing 48.33% to the growth of business and production activities.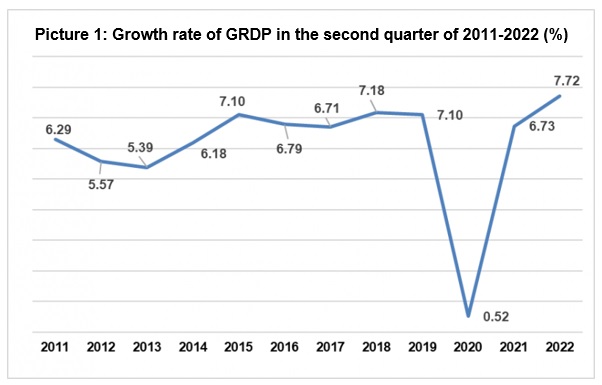 The growth rate of GRDP in the second quarter of the year 2022 under the data of the General Statistics Office of Vietnam

In addition to the growth of domestic enterprises, Vietnam's resources and potential have drawn a large number of foreign investors. There are resources in the skilled labor market, but the costs are lower than China's, causing foreign investors to gradually shift to Vietnam; the total number of registered employees is 514.8 thousand, increasing by 6.3%; Industrial parks in Vietnam have increased significantly with modern infrastructure, meeting scales from large to small and meeting international standards; and the State's FDI attraction policy; ... Foreign direct investment in Vietnam reached a peak of USD 10.06 billion in the first 6 months of 2022, within 5 years from 2018 to 2022, increased 8.9% over the same period,
The market of industrial parks in Vietnam in the first 6 months of 2022
Vietnam currently has 395 industrial parks with 123,000 hectares in area. Industrial parks in Vietnam are located all across the country, especially in the Southern provinces with the highest occupancy rates. There were 9 newly established industrial parks in Vietnam in the first 6 months of 2022, totaling 2,472 hectares, bringing the country's total area to 127,472 hectares, with the projects' investment capital reaching VND 29,411 billion.
An overview of industrial parks in Vietnam, with the Southern provinces of Dong Nai, Binh Duong, and Ho Chi Minh, the industrial triangle, with the number of industrial parks respectively from 31-29-22. With 14 industrial parks in Hanoi and 11 in Hai Duong, the industrial park market in the North is also exciting. The Central region has a total of 51 industrial parks, which makes about 19% of all industrial parks in the country. Quang Nam (9 IPs) and Binh Dinh (7 IPs) have the highest percentages of the total. Despite having fewer industrial parks in Vietnam than in other parts, the central is developing at a fast rate because of their ability to accommodate large factories and its geographical position near ports, accessible by sea, international air, and convenient for trade.
The existence of WHA Industrial Zone 1 - Nghe An on the map of industrial parks in Vietnam generally and the North Central area, in particular, is making a significant impact. The WHA Industrial Zone 1 - Nghe An, with total area of 498 hectares and a total investment capital of over VND 2,000 billion, entered Vietnam after having a foundation in Thailand, which shows serious investment, is well-organized and equipped with international infrastructure and equipment. WHA is expanding even more with the potential project of the WHA-Thanh Hoa smart technology industrial park.
According to the State's investment attraction policy, WHA assists investors in obtaining a variety of benefits, including a corporate income tax exemption for the first 4 years and a 50% reduction over the next 9 years. Imports of machinery and equipment that are listed as fixed assets are exempt from taxes. Tax exemption for the specified list of non-domestic raw materials, production supplies, or components for 5 years. Additionally, VAT incentives and direct support with procedures and processes at the local economic zone management board are other scores for attracting enterprises to Vietnam.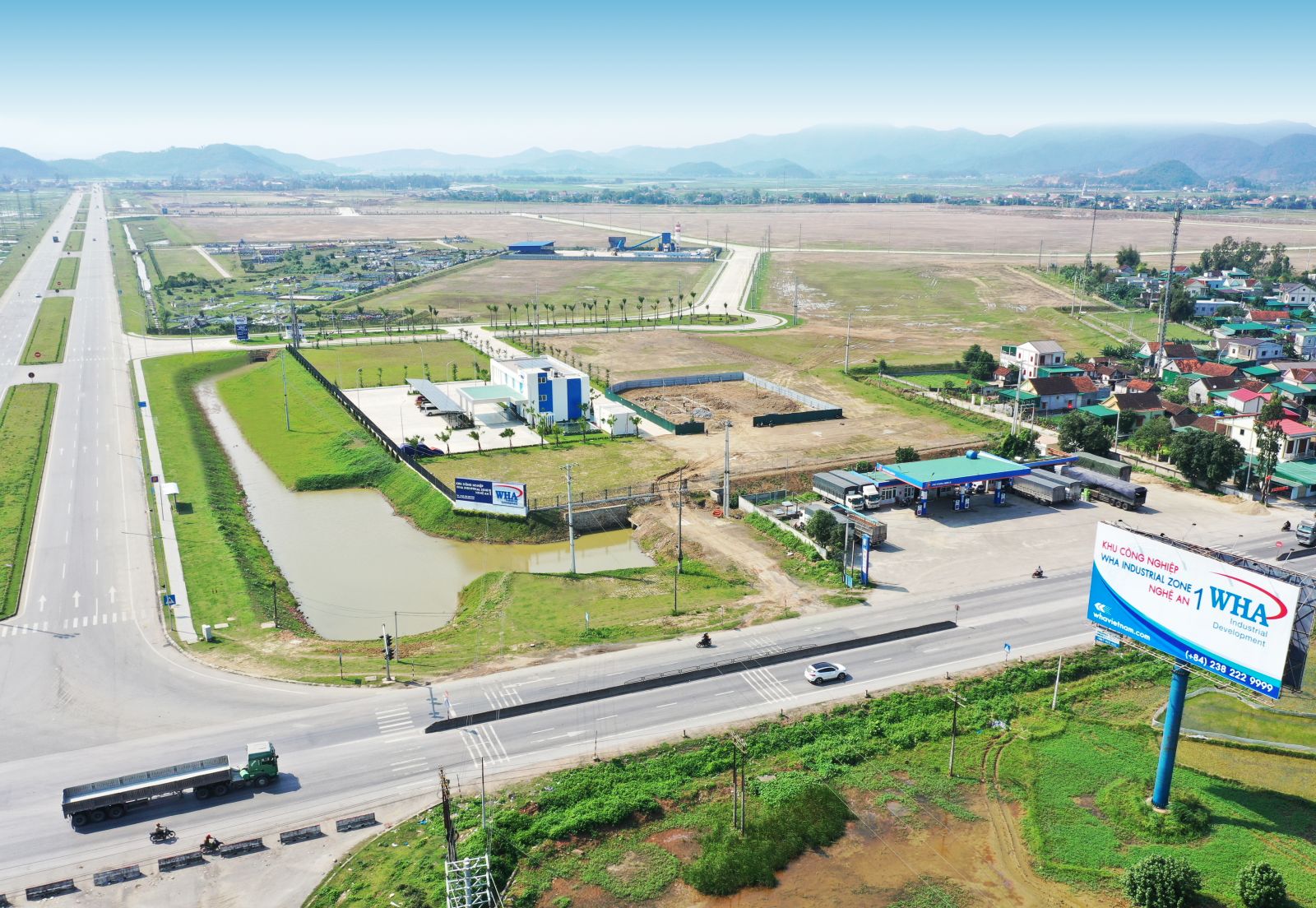 WHA on the journey to green-smart industrial park
In addition to creating industrial parks in Vietnam that comply with international standards, WHA aims to develop a smart industrial park that is technologically operated. And in the meantime, a green industrial park will be established, pure water will always be accessible, and solid, liquid, and gas waste will be carefully processed before being released into the environment or recycled. Reduce the demand for artificial power sources by investing in large-capacity alternative natural energy systems (solar, wind, etc.). using natural ventilation and cooling systems in enterprises.
The factories in WHA will be recognized for both industrial development and environmental protection with the current trend of environmental protection. Although it has no obvious impact on production or business, "green factories" and "green enterprises" unintentionally raise partners' esteem and affection. At the same time, it develops empathy for the residents and employees of the industrial park. This is another new goal of many industrial parks in Vietnam for both assuring business efficiency and enhancing the standard of living of residents inside and outside industrial parks.
Potential national resources have helped industrial parks in Vietnam become a powerful magnet for attracting investors, especially international investors and satellite companies of major global corporations, contributing to promoting economic and labor development across Vietnam's provinces and cities.