Inks Land Lease Agreement with Foxconn Subsidiary
in WHA Industrial Zone 1 – Nghe An, Vietnam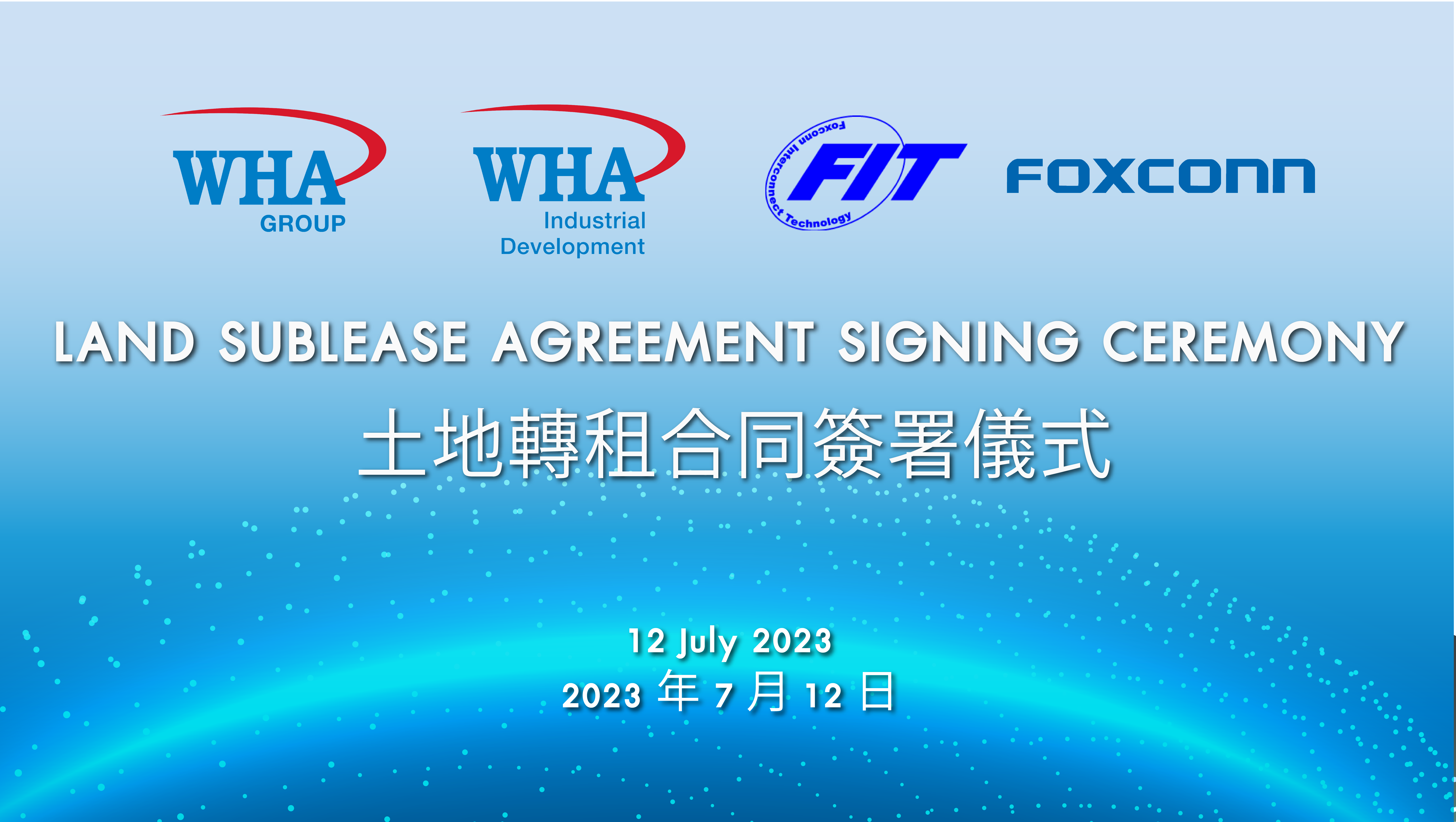 State-of the art manufacturing plant to produce hundreds of millions electronic components annually, with operations expected to start in 2024 and to cover a combined total area of 48 hectares
Nghe An, July 12, 2023 – WHA Group, a leading developer of industrial estates in Thailand and Vietnam, has announced the signing of a land lease agreement between WHA Industrial Zone Nghe An Joint Stock Company and the newly established Fu Wing Interconnect Technology (Nghe An) Co., Ltd., a subsidiary of Foxconn Interconnect Technology Limited (FIT) and part of Hon Hai Technology Group (Foxconn), the world's largest electronics manufacturer.

The project will produce electronic components, including wireless headphones, connecting wires, wireless chargers, speakers and connectors. The state-of-the-art manufacturing facility, located inside WHA Industrial Zone 1 - Nghe An in Vietnam's north central province of Nghe An, is expected to produce hundreds of millions of electronic components annually.

Foxconn Interconnect Technology Limited selected WHA Industrial Zone 1 - Nghe An in Vietnam for its new investment due to WHA's exemplary reputation, world-class infrastructure and utilities, and innovative smart-eco industrial zone solutions. Additionally, the project will benefit from Nghe An province's extensive labor workforce of 1.62 million and outstanding educational infrastructure with a comprehensive network of universities, colleges, professional and vocational schools.
"We are delighted to welcome FIT, a member of tech industry icon Foxconn, to WHA Industrial Zone 1-Nghe An for the location of its new significant factory," said Ms. Jareeporn Jarukornsakul, Chairman of the Executive Committee and Group Chief Executive Officer, WHA Corporation PCL. "Vietnam is an attractive investment destination for international investors in cutting-edge technologies like precision electronics. This lease agreement further enhances our portfolio of customers from China, Japan, South Korea and Vietnam. Foxconn Interconnect Technology can confidently establish its operations at WHA Industrial Zone 1-Nghe An, benefiting from WHA and Nghe An Province's combined advantages in terms of geographical location, workforce availability, world-class infrastructure, utilities and environmental care"


Foxconn Interconnect Technology (FIT)
Foxconn Interconnect Technology Limited ("FIT") is a global leader in a global leader in the development and production of interconnect solutions and related products with offices and manufacturing sites located in Asia, the Americas and Europe.

FIT capabilities include development, research, manufacturing engineering and design, production, supply chain, and go-to-market planning for world class brands and private label products spanning B2C and B2B categories. Examples of FIT products are electronic connectors, antennas, acoustic components, cables, and modules for applications in computers, communication equipment, consumer electronics, automobiles, industrial and green energy field products. FIT is listed on the Stock Exchange of Hong Kong as FIT Hon Teng (stock 6088).

Hon Hai Technology Group (Foxconn)
Established in 1974, headquartered in Taipei, and listed on the Taiwan Stock Exchange (TWSE: 2317), Foxconn, ranked 20th on the fortune Global 500 in 2022, has established a global presence with over 200 subsidiaries and branch offices across 20 countries, including manufacturing and R&D facilities, and recorded annual revenue of USD 206 Billion in 2022. In addition to electronic products, Foxconn has expanded its capabilities into electric vehicle development, digital health-tech and robotics, as well as AI, semiconductors, and next-generation communication technologies.

WHA Vietnam
WHA Group, through its subsidiary WHA Industrial Development Public Company Limited, has accumulated over three decades of extensive experience in industrial development. With a portfolio of 12 industrial estates/land covering over 11,360 hectares, WHA Group has expanded its operations to Vietnam. WHA project in Nghe An Province, called WHA Industrial Zone 1 - Nghe An, is strategically located in the Dong Nam Economic Zone, offering excellent connectivity to key transportation networks. Covering a total area of 2,100 hectares upon completion, WHA Industrial Zone 1 - Nghe An provides international-standard infrastructure for industrial investors in sectors such as industrial, consumer, logistics and technology including electronics, to serve domestic and international markets. Currently, phase 1 of the project, covering 145 hectares, is completed and 76% occupied, while phase 2, encompassing 355 hectares, is currently under construction.


About WHA Group
WHA Corporation Pcl. (WHA Group) is Thailand's leader in fully-integrated logistics and industrial facilities solutions. WHA's operations consist of 4 business areas in Logistics, Industrial Development, Utilities & Power and Digital Solutions with an integrated service offering that enables it to provide customers with turn-key solutions:
Logistics – Customers can avail of built

-

to

-

suit factories, logistics facilities and distribution centers. This innovative concept was pioneered in the market since 2003 by WHA Corporation Pcl

.

, with more than 2.7 million sq

.

m. in leasable area under owned and managed assets at 48 strategic locations nationwide to date

.

Industrial Development – As a world-class industrial estate developer, WHA offers strong and efficient infrastructure, utilities, industrial clusters including automotive and petrochemical clusters, and comprehensive industrial services. Today, WHA Industrial Development Plc. has 12+ operating industrial estates, covering over 11,360 hectares, mostly located in Rayong, Chonburi (in the EEC) and in Saraburi. The EEC Management Committee has designated 11 WHA IEs as special industrial zones for targeted industries, in line with WHA Group's commitment to support the development of 12 target industries in the country. In Nghe An Province of Vietnam, WHA Industrial Zone 1 - Nghe An. Total area of 2,100 hectares; Phase 1 (145 hectares) is completed and 76% occupied. Phase 2 (355 hectares) is under construction.
Utilities and Power – As the sole supplier of water and other utilities infrastructures, WHA Utilities and Power Plc

.

offers total security to industrial estate customers while enjoying strong partnerships with leading power operators

.

It supplies approximately 145 mm m3 of water per year and 644 operational equity MW

.

Digital Platform – In order to support its customers in their business intelligence operations, WHA actively provides comprehensive digital solutions. WHAbit, a healthcare application to enhance accessibility to healthcare services, including telemedicine, was officially launched in partnership with Samitivej Hospital. It also led the company's digital transformation through over 32 projects to turn the company into a tech company in 2024.